Scottish spending review: Public services brace for 'sharp' cuts as Kate Forbes releases spending priorities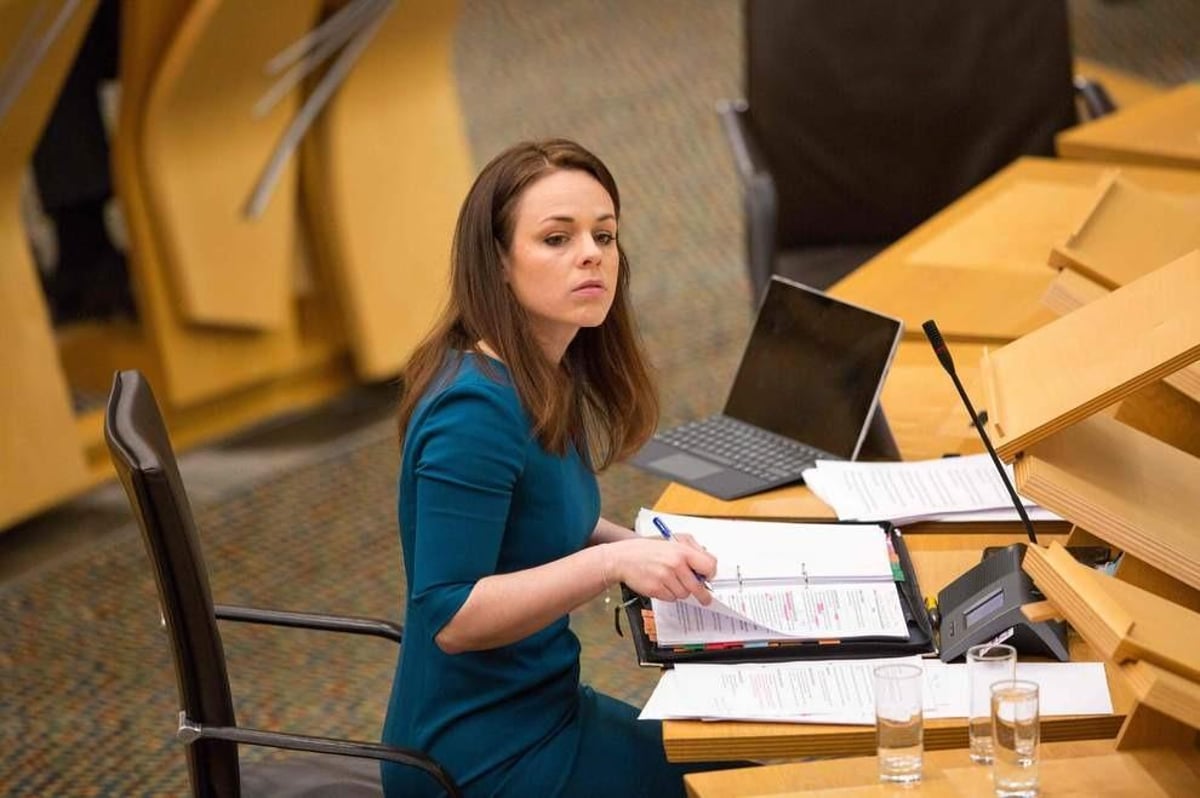 SNP Finance Secretary Kate Forbes said the public sector will have to "reshape and refocus" in the years to come.
But police representatives warned that the number of officers would "inevitably drop" and called it a good day for criminals.
Household disposable incomes in Scotland are set to see their biggest drop since records began.
Finance Secretary Kate Forbes. Photo: Robert Perry/Pool/AFP via Getty Images
The Scottish Government previously forecast a growing gap between its funding and spending of around £3.5billion by 2026/27, with critics accusing it of 'mismanagement'.
It has now released its Resource Spending Review, which outlines its major spending plans for the next four years.
Ms Forbes pointed to factors such as the pandemic, the war in Ukraine, an "unprecedented" cost of living crisis and inflation hitting a 40-year high, with Brexit exacerbating the problems.
She insisted the Scottish government was doing "everything it could" in response.
Health spending is set to rise from £17.1bn to £19bn by 2025/26, while funding for social security benefits will rise from £3.9bn to £6.4bn pounds sterling, an increase in real terms of 48%.
However, spending elsewhere will stagnate.
David Phillips, associate director of the Institute for Fiscal Studies, said: "On the plans set out today, the ax is set to fall on a wide range of public service areas."
He said budgets for local government, police, prisons, justice, universities and rural affairs are expected to fall by about 8% in real terms over the next four years, equivalent to a reduction in real terms of £1.1 billion.
Promotion of business, tourism and trade will see a reduction of 16 percent in real terms.
Read more
Read more
Ministers will pay £180,000 to improve 'productivity' at Ferguson Marine shipyard…
The Fraser of Allander Institute, attached to the University of Strathclyde, said the prospects for funding were "extremely tight".
He said the spending review implied councils would see a reduction in real terms of 7% between 2022/23 and 2026/27.
Calum Steele, general secretary of the Police Federation of Scotland, said the plans were "absolutely brutal on funding for policing and justice at large".
He said: 'Fixed money for police, prisons, legal aid, judiciary and courts and tribunals. Police numbers will now inevitably fall.
"A bad day for the public, a good day for the criminals."
Elsewhere, ministers have announced plans to reduce the size of the public sector to "broad" pre-pandemic levels while selling buildings.
The public sector workforce has risen to more than 440,000 in the past two years, from around 410,000 in 2016/17.
The Scottish Government is proposing to cut staff using "effective vacancy and recruitment management".
The spending review notes that there are 129 public bodies in Scotland, adding: "We expect all public bodies to demonstrate that they remain relevant to the current and future needs of Scottish people, places and communities. "
The independent Scottish Tax Commission (SFC), the Scottish Government's official forecaster, said rising inflation and rising taxes are expected to "reduce real household disposable income by 2.9% in 2022/23, the biggest drop since Scottish records began".
Ms Forbes said: "We are of course still recovering from the coronavirus pandemic. There is still acute pressure on the NHS, on businesses and on the wider economy.
"The illegal Russian invasion of Ukraine is a humanitarian crisis affecting the global economy. Rising energy prices and tight supply chains have affected countries around the world. If inflation also affects other countries, it does not affect them in the same way.
"The UK currently has the highest inflation of any G7 country – almost twice the rate of France. Brexit has compounded this problem, with increases in food prices hitting the hardest the poorest.
"We are going through an unprecedented cost of living crisis. Inflation is at its highest level in 40 years, at 9%, and households are facing considerable difficulties."
She said the spending review is not a budget and does not describe tax decisions.
Ms Forbes said: 'However, it is essential to share high-level financial metrics with public bodies, local authorities and the third sector, so that we can plan together.'
She called the public spending framework "ambitious but realistic", adding: "It does not ignore the realities of our financial situation, but it also does not back down on our ambitions for change."
Dame Susan Rice, Chair of the SFC, said: "The difficulties the Scottish Government is facing in managing its budget is illustrated by the 8% drop in funding available by 2025/26 for areas other than health. and social security after adjusting for inflation.
"Scotland continues to be affected by difficult economic circumstances and uncertainty.
"Rising inflation means that incomes are not keeping pace with the cost of living. We expect inflationary pressures to persist until the middle of next year, with a return to positive growth in real income in 2023/24."
The SFC said Social Security will make up a growing share of Scottish Government funding, rising from 10% this year to 14% in 2026/27.
His analysis indicated that this would put pressure on other areas of government spending, particularly in the early years of the five-year period.
The UK and Scottish governments have taken different approaches to social spending, including the introduction of New Scottish Payments.
By 2026, the Scottish government is expected to spend over £1.3 billion more than it receives from the UK government on social security.
Scottish GDP growth is expected to slow to 1.1% in 2023/24, down one percentage point from the current year.
However, the SFC said Scotland should not go into recession.
Scottish Conservative finance spokeswoman Liz Smith said: 'If ever proof was needed of the SNP's mismanagement of the Scottish economy, it can be seen in the glaring $3.5billion black hole pounds sterling in our public finances.
"The global economy is facing extraordinary pressures, but the financial shortfall that has been forecast comes despite the SNP receiving record funding from Westminster this year.
"The gaping hole between projected public spending and tax revenue over the next few years is the product of the staggering incompetence of an SNP government that has no idea how to manage public finances – the ferry fiasco being just one example.
"With beleaguered families here in Scotland struggling to make ends meet, the SNP urgently needs to overcome our economic decline.
"They must commit to bringing Scottish income tax levels back to the same as the UK, so that Scotland is no longer the highest taxed part of the country.
"They need to address the ever-growing skills gap that is stifling our productivity.
"And they must take an economically devastating independence referendum off the table, to finally put Scotland's economic growth first."
Labor MP Daniel Johnson said: "Fifteen years of failed SNP economic policy has brought us to this point, and this disastrous update promises more of the same.
"The Scots have paid the price for the SNP's distorted priorities and disastrous incompetence for years, and now things will get even worse.
"Scotland deserves better than a managed decline from this tired government – we need real ambition to get our economy back on track."