Minister of Public Services advises credit union leaders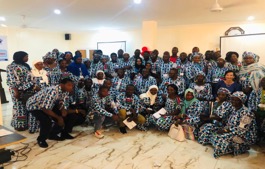 "You can't close the door because it's 4 p.m. while the members are sitting at the door. If you put people in an accident situation first, before asking what happened to my vehicle, the question should be what happened to you. »
Speaking at a managers and volunteers conference organized by the Gambia National Association of Credit Unions over the weekend, Minister Joof spoke of the need for leaders to be mindful of their subjects before assets.
"If we are professional and deal with members professionally, we shouldn't yell at them when they come to see us, even if they make mistakes."
Sometimes members get frustrated and it's because of instinct in the person's mind, but not because they're being rude.
However, the Hon. Joof charged credit unions with orienting, initiating, educating and training people who automatically end up as members of credit unions in the country.
According to him, the NACCUG should come up with standardization of interest rates and standardization of service delivery requirements.
He added that there is a need to address the issue of sign language in the credit union movement.
"Credit union managers should start learning different languages ​​in our communities to help better associate with members and make them feel at home when visited in their offices."
To board members and chairmen, the minister said: "Take care of your staff because in order for customers to leave happy, the workers who serve them must first be happy. You have to take care of their needs and provide them where you have them.
According to him, not giving VIP treatment to staff will naturally affect their morale, which will reflect on the way they deliver services.