Enough is enough: the future is public – Reclaiming public services for a just recovery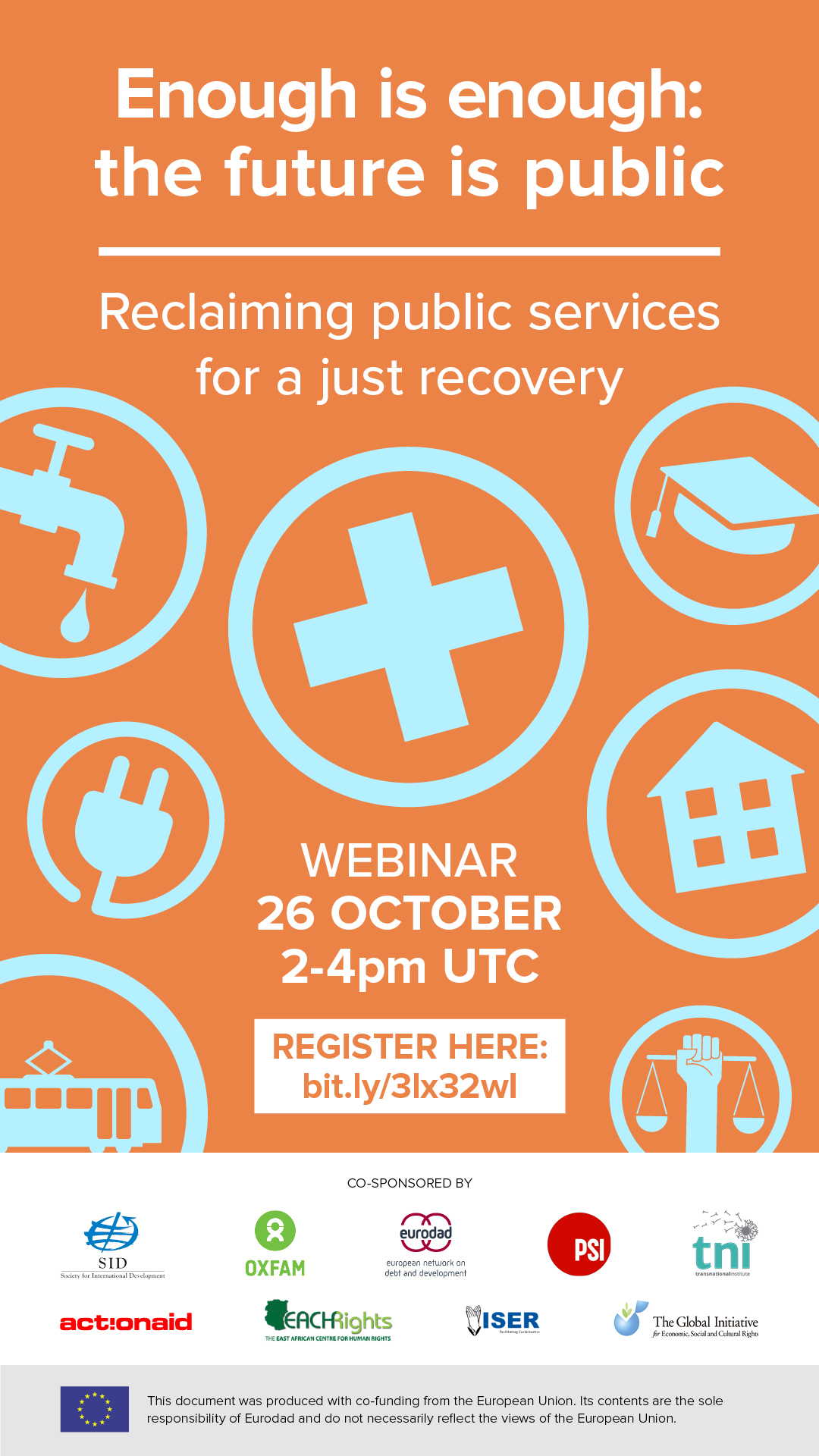 Join us for a unique and dynamic online discussion on October 26, 2021 bringing together seven global and regional human rights experts to reflect on the crucial role of public services in building a more sustainable, inclusive social worldly-just, and a resilient economy and society.
Interpretations – English, French and Spanish.
This event is built on the very successful round table held last year on Privatization and Public Services, which brought together seven current and former United Nations Special Rapporteurs and a former Expert and which brought together more than 500 participants from all over the world. This event aims to continue and strengthen this momentum, focusing on public services as the key to a new path, especially in light of the ongoing COVID-19 pandemic, climate emergency and ecologycal crisis
Koubou bolybarry, United Nations Special Rapporteur on the right to education

Solomon Ayele Back, Commissioner of the African Commission on Human and Peoples' Rights

Leilani Farha, former UN Special Rapporteur on adequate housing as part of the right to an adequate standard of living and on the right to non-discrimination in this context

Leo Heller, former UN Special Rapporteur on the human rights to safe drinking water and sanitation

Aife Nolan, Vice-President of the European Committee of Social Rights of the Council of Europe
Magdalena Sepulveda, former UN Special Rapporteur on extreme poverty and human rights and Executive Director of the Global Initiative for Economic, Social and Cultural Rights

The moderator and other speakers have yet to be confirmed.
This webinar will be held on Zoom and will be available in English, French and Spanish.
Privatization and commercialization are increasing in many areas, from the provision of services such as education and health to the governance of land and natural resources. This raises a number of human rights concerns, including increasing inequality and segregation, access restrictions, and the loss of democratic control over areas essential to human dignity. Dynamics of financialization further exacerbate the dispossession of communities and people, while creating new levels of concentration of power and wealth in the hands of a few actors.
The COVID-19 pandemic has further exposed and exacerbated existing inequalities and injustices related to privatization, and revealed the equalizing and redistributive power of public services. It isa crucial time to build public services as part of a just recovery and transition to a more sustainable and resilient economy and society.