Emma Ritch honored at Scottish Public Services Awards 2021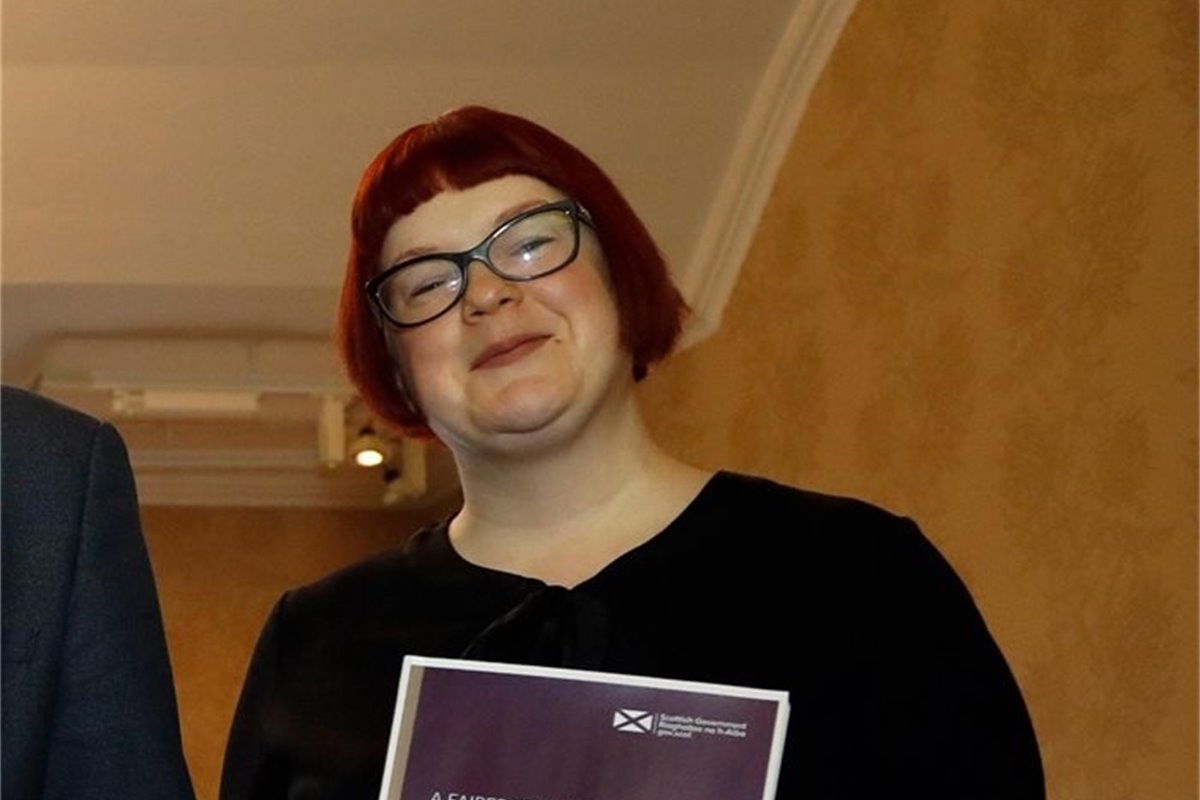 Tributes were paid to women's rights campaigner Emma Ritch, who posthumously won the Lifetime Achievement Award at the 2021 Scottish Public Services Awards.
The awards, organized by holyrood in partnership with the Scottish Government and the Scottish Parliament, have been ongoing since 2014, to recognize the rich and unique diversity of public life in Scotland and the vital relationships that cross departmental, geographical and institutional boundaries.
The awards were co-hosted by the Speaker of the Scottish Parliament, Alison Johnstone MSP, and Deputy First Minister John Swinney.
At a glittering awards ceremony held in the Scottish Parliament, former Engender executive director Emma Ritch, who died earlier this year, received the main prize of the evening, following a a unanimous vote of the SPSA jury.
Following the announcement, video tributes were released by Premier Nicola Sturgeon, Engender Board Chair Nina Murray and Emma's husband Kenny Ritch.
In her video message, Sturgeon said: "Since her passing earlier this year there have been many tributes to the life and career of Emma Ritch.
"I read one that described Emma as 'a titan of the women's movement' and that's exactly what she was. Emma has made an absolutely extraordinary contribution to the cause of women's rights in this country and to the -of the.
Commenting on Emma's tenure as Executive Director of Engender, the Prime Minister added: "Anyone who has met Emma will know the level of passion, intelligence and eloquence she has brought to this role and to every position she held.
"Emma has been instrumental in strengthening the links between the women's movement in Scotland with its counterparts in the UK and Europe."
Nina Murray said of Emma, ​​"It is an honor to accept this lifetime achievement award on behalf of Emma Ritch, especially today on her birthday. Emma's Life was so much shorter than it should have been and her death earlier this year was cruel, both for those of us who knew and loved her, but also for all women in Scotland.
"The extra years Emma deserved would no doubt have brought great change to women's rights in Scotland."
In a moving tribute, Kenny Ritch said: "I'm going to be brief because, well, Emma's not here to write this for me. There's a thousand things I would like to say about how amazing she was, but the reality is that I can't even begin to hope I can do it justice but luckily there are others who do just that
"I'm very proud of her.
"I was lucky enough to meet her at 18, fall completely in love, get engaged at 19 and get married at 23, I wouldn't change a thing."
The top prize of the evening was the Digital Services Award, sponsored by Leidos, which was awarded to the Technology Enabled Care programme, Near Me. Finalists were Managed Service & Fife Health and Social Care Partnership, Just Checking; and Immersive Experience Pod, North Lanarkshire Council.
The Project and Program Management Award went to Delivering results – agile enhancement in action, Scottish Legal Complaints Commission; beating the implementation of HEPMA, NHS Greater Glasgow & Clyde, and the extension of early learning and care to 1140 hours, improvement service.
The Community Involvement Award, sponsored by Caledonian MacBrayne, went to the Protection Scheme, run by the Scottish Government's Protection Division. Other nominees were Glasgow's PRS Housing and Welfare Hub, Glasgow City Council and Delivering for Communities, North Lanarkshire Council.
The Voluntary Sector Partnership Award, sponsored by SVCO, went to Maximise! Project, Capital City Partnership, CHAI, Children 1st and NHS.
The Campbell Christie Civil Service Award Reform was awarded to the Directorate of Social Security and Social Security Scotland.
The leadership award went to Driving innovation to support people in extraordinary times, Trish Quinn, Scottish Government Digital.
The communication prize was awarded to the panel member recruitment campaign, Children's Hearings Scotland.
The Gender Equality Champion award went to the Scottish Women's Development Forum, Police Scotland.
The sustainability award, sponsored by Aico, went to Going Green the D&A Way, Dundee and Angus College.
The Covid-19 Prize, presented by Deputy First Minister John Swinney, was awarded for the 2021 Scottish Parliament elections under COVID-19, which is part of the Scottish Government's election team.
The Colin Mair Award for Incumbent Policing, sponsored by the Improvement Service, went to Dundee City Council's Housing Domestic Violence Policy.
Finally, the Business Partnerships Award went to Scottish Seafood Export Hubs, Food Standards Scotland.