Div Com, ADGP Jammu review utility delivery mechanism in snowy Warwan Valley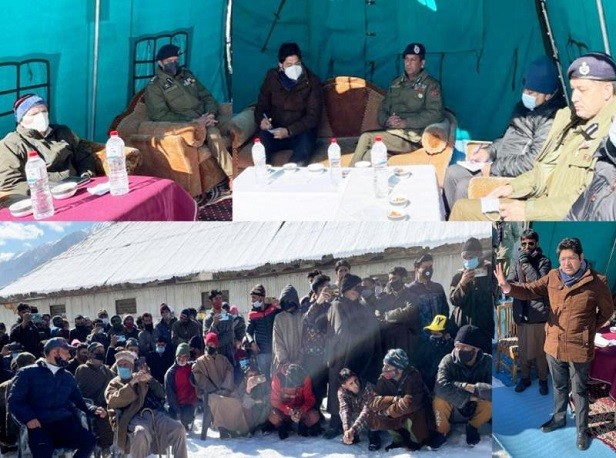 KISHTWAR, FEBRUARY 01: On the second day of a two-day visit to Kishtwar district, Jammu Divisional Commissioner, Dr. Raghav Langer and the Additional Director General of Police (ADGP), Mukesh Singh today visited the snowy Warwan Valley and took first-hand assessment of the basic amenities available to locals amidst the harsh winter season.
The visiting officers also listened to and mended the grievances of the local people.
Deputy Commissioner Kishtwar Ashok Sharma, Chief Superintendent of Police Shafkat Hussain Bhat and other senior officers also accompanied them on the visit.
The Divisional Commissioner reviewed the stock and supply situation of rations, medicine, LPG and other basic necessities in the region, in addition to basic amenities available to the public.
Later, Div Com, together with ADGP, interacted with PRI members and the local and listened to their grievances and demands.
Residents demanded connectivity of Matti Gowran tunnel to Warwan, improved ration quota per family, timely payment of MGNREGA salaries, helicopters in the valley all year round , strengthening health and patient care infrastructure, upgrading educational infrastructure and expanding road connectivity, in addition to full-fledged BDO display.
After a patient hearing, the Div Com assured that their true demands would be conceded within a limited time, as Division-level administration arrived at their doorstep to alleviate their suffering.
Visiting officers gave on-site instructions to relevant officers for immediate resolution of urgent issues. Interacting with locals, the Div Com urged officers stationed in the valley to put extra effort into improving service delivery based on the needs of the population.
In addition, he requested the PRI to lend their support and cooperation to the administration in order to facilitate the smooth execution of the development works in this remote area.
The Div Com assured the Inshan public that the Lieutenant Governor's Administration is fully committed and aware of addressing public grievances in the most remote areas of UT.