CUPE BC launches media campaigns to support public services and defend public child care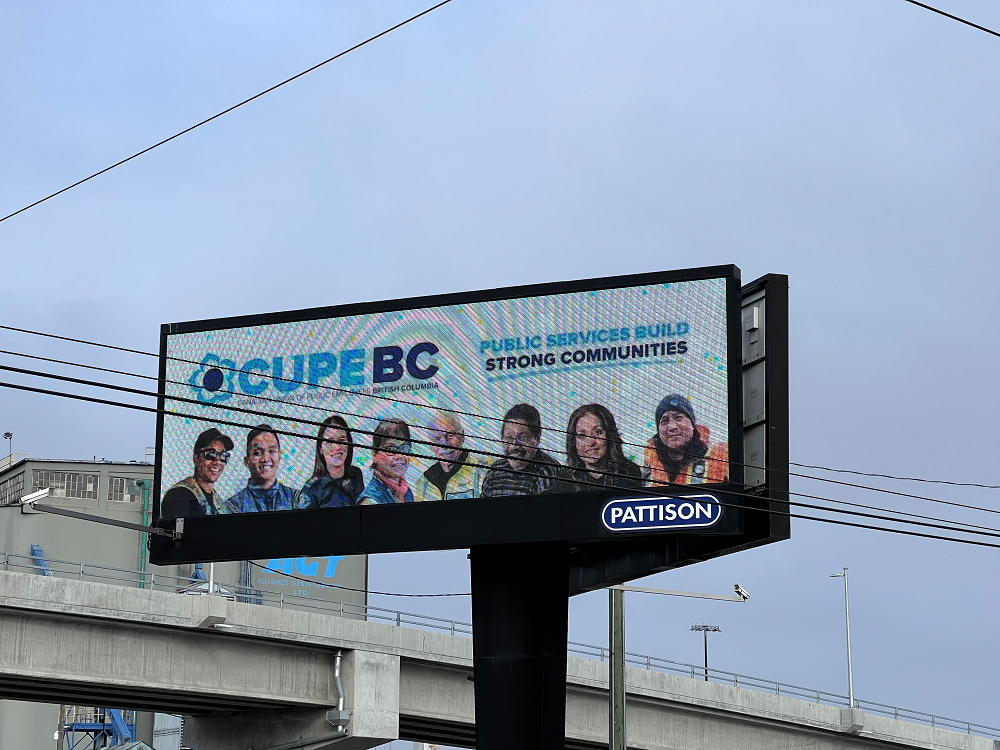 BC's largest union takes to the airwaves, digital media and streets with a province-wide ad campaign to remind people of the importance of public services as we strive to build back better after the pandemic. CUPE BC also launched the latest phase of its advocacy campaign for affordable, quality childcare, focusing on the creation of before- and after-school childcare in public schools. Advertising campaigns are featured on radio, digital media platforms, social media, digital billboards, bus shelters and popular podcasts.
"We launched this advertising campaign for a number of reasons, but the number one reason was to highlight the vital work CUPE members have done in almost every community since the start of the pandemic," said CUPE BC President Karen Ranalletta. "The pandemic has exposed so many social inequities – the experience of the pandemic has been very different for the well-to-do than for the hundreds of thousands struggling to make ends meet. The last two years have been much more difficult for people in low- and middle-paying jobs than for those with higher incomes. Ensuring that our public services remain strong is one of the ways governments can ensure that when we rebuild, we will build back better.
Ads functionality CUPE members from a wide range of sectors represented by the union, including municipalities, K-12 public schools, transportation, community social services, colleges and universities, and community health.
"In partnership with CUPE At the national level, we have also launched the latest phase of a major campaign to advocate for the establishment of before and after school child care in public schools," Ranalletta said. "The lack of a plan for school-aged children who need before- and after-school child care is the missing piece of the provincial government's plan for $10-a-day child care, so we get public support for our plan.
The Child Care Campaign at www.publicchildcarenow.ca encourages supporters to contact their local school trustees and ask them to work to bring child care services to public schools.
"Once you start thinking about it, the concept makes so much sense that you have to ask yourself 'why hasn't this already been done?', especially when you realize that the spaces are already built and that we already have qualified educational assistants in place, the majority of whom do not receive full-time hours," Ranalletta said. "And that would make life much easier for parents and children, with less transitions in the day."
The campaigns are among the most important in CUPE BC's story.
"We have been committed to building our financial strength over the past 6 years and are finally able to dedicate substantial funds to major campaigns like these," said CUPE BC Secretary-Treasurer Trevor Davies. "During these unprecedented times, our Board of Directors agreed that it was really important to invest resources in a campaign to recognize how hard our members have worked throughout the pandemic and to reinforce the message according to which strong public services are essential to maintain the growth and resilience of our communities.
"And we are very grateful to CUPE National for supporting our campaign to integrate before and after school child care into public schools," Davies said. "Anyone who has tried to find affordable, quality childcare knows how desperate the situation is, especially for working people. Bringing school-age child care into public schools is a no-brainer, and we hope policymakers listen to the growing number of voices calling for it.