Boyertown Farmer's Creek Alterations Lead to Costly Dispute with Government Agency | Master Edition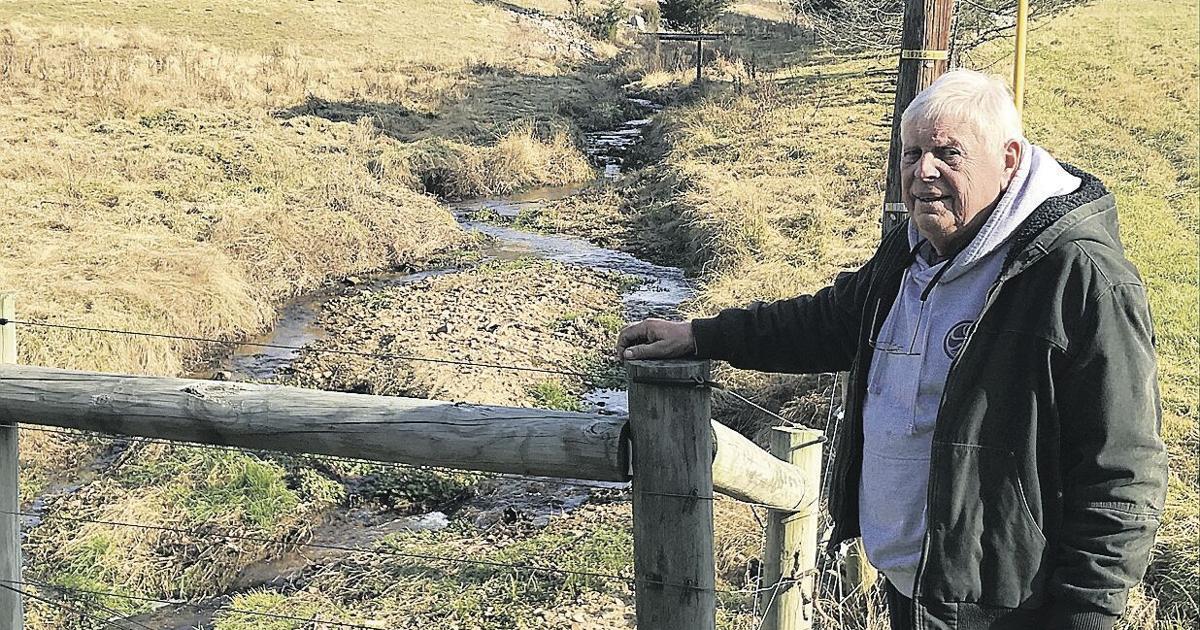 BOYERTOWN, Pa. — Jay Smith's farm creek running under Longview Road doesn't look like much. It is about six feet wide and a few inches deep where it crosses the culvert.
This narrow body of water, located a short drive from Smith's home, created a giant headache for the Boyertown resident.
The issues began with a downpour in August 2020 and escalated into an ongoing legal battle with the Department of Environmental Protection.
Smith said heavy rain flooded the road, sending litter into the creek and requiring immediate action.
"I started digging to open the culvert," Smith said. "We removed tons and tons of sediment and debris. There were three tires in it. There was a tank of a water heater. It was all kinds of trash that we took out and threw in the landfill. It cost $378. We have done all of this.
Smith thought the problem was solved at that time. It is his land. Its flow. He didn't think about deleting.
About two months later, Jason Rickards, an urban resources conservator for the Berks County Conservation District, arrived unannounced on Smith's property and investigated the creek.
District executive Dean Druckenmiller said BCCD was responding to a complaint from a local landowner or the Fish and Boat Commission. He declined to specify which.
Druckenmiller tells a different story about what happened to the watershed. He said Smith had made modifications that extended beyond the area near the road.
"I know there was a significant amount of accumulated sediment at the culvert where it went under the road," Druckenmiller said. "Which he could have rectified with no problem. He decided to take matters into his own hands. He extended it almost half a football pitch up the creek.
The dispute continued from there. Druckenmiller referred the matter to the DEP, which intervenes when discipline is required.
Smith said the flooding was so severe it spread to the adjacent wetland and one of his steers got stuck in the mud and had to be removed with an excavator. He maintains that it was an urgent situation.
"They say you can't touch wetlands without getting a permit," Smith said. "I said, 'I don't touch the wetlands. I touch my agricultural land. That's what I'm doing.' I own this. I pay taxes on it. Hold it. I have never known a farmer who was not a good steward of the land. I have never known a farmer who wanted to see his land washed away.
DEP declined to comment because the investigation is still open. John Repetz, the community relations coordinator, emailed a copy of the initial inspection report to Lancaster Farming.
The report states that "approximately 270 feet of the watercourse was dredged to remove sediment deposits. Dredging activities began at the causeway culvert and extended approximately 270 feet upstream and east of the culvert. Portions of the stream have been straightened and widened.
Smith claims the stream has not been straightened. Druckenmiller said the BCCD consulted Google Earth and historical photos to reach its conclusion.
"They want me to put the stream back where it was," Smith said. "That's where the creek has always been. Right here. They have no idea where the creek was. I will put it back. Where do you want me to put it? They do not know. I'm the only person who knows where it was.
Druckenmiller said Smith will likely need to hire an engineer to help with a restoration plan to restore the creek to its original state.
Smith is accused of digging the creek and making alterations to the wetland without a permit.
"Every time you straighten a stream, you completely change the biological diversity and functionality of the stream itself," Druckenmiller said. "According to him, he has the feeling of improving the situation. In fact, and if you talk to any wetland biological scientist or whatever, they'll tell you that by doing this you're actually exacerbating the flooding problems. You destroy aquatic life, you destroy habitat. Especially on a high quality watershed, we want to preserve that biodiversity and things like that.
Smith said he was fined $650 by the Fish and Boat Commission and faces 90 days in jail if he doesn't pay the fine. This dispute became a financial hardship for Smith, who incurred thousands in legal fees with no end in sight. He says he is singled out for being an "easy target" as an independent farmer.
"I'm pushing 80 really hard," Smith said. "I'm retired. There's no way I'm getting that money back.
Druckenmiller encouraged farmers to speak with BCCD before making changes to their property.
"If you're planning on digging or something around a stream or wetland, contact us to make sure they're compliant with regulations," Druckenmiller said. "We can help them throughout the process if it is necessary in their case. As a district, our goal is to keep the DEP out of the county. We don't want that kind of thing to happen. We would rather help landowners and go through the process for them than let it go to this point.
Smith did not take this course. Since then, he has suffered from headaches.